"SPECIALISTS IN UNDERGROUND SERVICES,
NON DESTRUCTIVE EXCAVATION & PLANT HIRE"
Down Under Pipeline Surveys is equipped to supply you with all your plant & equipment hire needs including:
4.5 tonne to 30 tonne Excavators

Hi Rail Excavators

Street Sweepers

7,000 Litre – 19,000 Litre Water Carts

Drott's

Backhoes

Dumpy Trucks

Bobcats

Rollers

Tractors including Slashers

Various Attachments including: Mulchers, Augers, 4 in 1 Buckets,
Tilt Buckets, Sleeper Grabs, Hammers, Compaction Plate, Rippers, Rail Tampers &
Rock Saws.
We also have added to our fleet the 2012 Haulotte Multi Job Rubber Tyred Loader. Imported from France the Multijob combines a continuous rotation excavator with a telescopic loader, allowing you to Multi Task your Multijob. This machine is extremely versatile, so you can tackle difficult jobs with ease.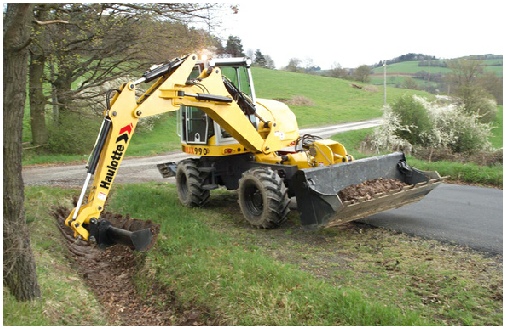 This machine provides enhanced manoeuvrability on your construction site. Whether using the excavator side or loader side, the progressiveness of the hydrostatic transmission and the accuracy of the steering system enable's you to benefit from the exceptional performance of the four drive-steer wheels of your Multijob in any environment. An inching pedal allows slow and accurate movement of the Multijob. From automatic selection of the steering mode to automatic alignment of the second drive-axle, the Multijob is perfectly suited for any civil engineering works.
All of our plant & equipment are fitted with Reverse Quakers, Reversing Cameras, Flashing Lights, Spill Kits & First Aid Kits. All machines have ROPS FOPS & Anti drop valves & so on to ensure the utmost safety when working on & around site.